Reposted from: http://www.gofundme.com/LegalSupport4ChrisThunder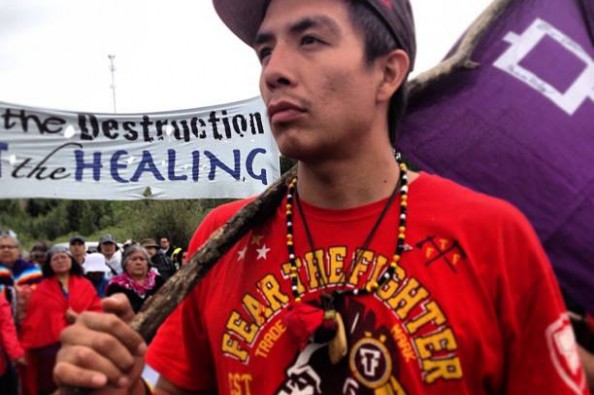 Christopher Thunder was arrested on August 20, 2014, (and is still incarcierated) while he was waiting for a ride to Hamilton, so he could catch the bus to the People's Social Forum where he was invited to participante in the People of Colour and Native Youth delegation. Chris was arrested for an alledged breach because at that moment it is alledged that he was not with his sureties. Chris has remained in jail since this unlucky event, where he was clearly targeted by the OPP.
The conditions that got him in jail were set because Chris had allegedly missed a court date while on a healing journey across Canada. This journey began when Chris joined Onkwehonwe from Saskatchewan in a walk to Ottawa, entitled "Journey for Earth", to raise awareness of Bills C-27, C-38, C-45, C-428, S-2, S-6, S-8, S-212, and the illegal international deal known as FIPA, and to spread awareness about the uranium mining and processing. Returning to Saskatchewan with the walkers, Chris then joined the Tar Sands Healing Walk, a National Treaty Gathering and Pow wow (where Chris performed Smoke Dance), an Honour the Apology Gathering, and the Unist'ot'en camp, where Chris helped the Unist'ot'en build a pit house on the proposed route of the Pacific Trails Pipeline.
Since this journey, Chris, along with women warriors he met during the healing walk, went on another journey to New Brunswick to Mi'kmaq territory, Elsipogtog, and joined the camp set up in the way of where they had proposed to frack.
Direct Action is very important to Chris, and also likely the reason that he has been targeted. He is not trying to run away from his legal responsibilities to go to court, but is rather embracing his responsibility as a Haudenesaunee to protect the land.
We need to raise $2000 for his lawyers fee to get him out of jail, where they have held him for over a month now. Anyone who knows Chris knows that he never stands back and watches, but puts his heart, body and soul into every event he takes part in. Please help this warrior by donating to his legal fund and by sending your prayers for him. Nya:weh
More on Chris:
Christopher is a land defender, and he was a political prisoner. He participated in the 2006 Grand River land dispute standoff, where he was camped out for months to demand the stop of development by the Henco Industries on Six Nations territory, where Chris was arrested. After that Chris has done what he can for his community and for Mother Earth, especially though direct action. He went on a march to stop the construction of a bigger police station on Six Nations, when a youth centre was desperately needed. From this he set out his goal in life, to open up a youth centre on the trail on Six Nations, where kids and youth can come and participate in obstacle courses and traditional teachings, where free food are offered to all.