Originally from Peterborough ABC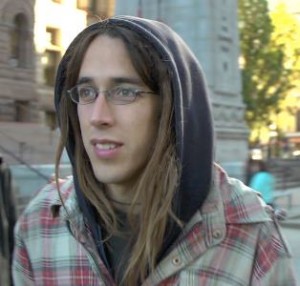 George Horton, who was imprisoned on the 28th of September 2012 for 3 counts of attempted mischief, 1 count disguised with intent of crime, 1 count of assault police, 1 count of intimidation of a justice participant by use of violence, (all charges resulting from the Toronto 2010 G20 riots) has been released from the Central North Correction Complex in Penetanguishene, ON on Bail Pending Appeal. Horton who was sentenced to 10 months imprisonment was released yesterday – December 10th – after serving just over 2 months of his sentence. He is appealing the sentencing and convictions of the intimidation of a justice participant, and assault police charges, therefore he was eligible for Bail Pending Appeal. After a brief legal battle (the Crown's office put in much effort to block Horton from being granted bail) Horton's appeal lawyer Peter Copeland was able to procure a bail agreement with the courts. Horton has returned to his home town of Peterborough Ontario, and has to follow such bail conditions as: a curfew from midnight to 6:00am, remain in a place of residence during that time (does not have to necessarily be Horton's residence just a place of residence), cannot go outside of the provinces of Ontario or Quebec, has to report and sign in with Peterborough Police every second Wednesday, and cannot attend any kind of protest or demonstration while wearing a mask or 'wielding' what could be considered a weapon. He also has to turn himself back in to the custody of the C.N.C.C (jail) by 6pm the day before his appeal hearing (there is no date yet set for the hearing, but most likely will take place around a year from now). Horton is very happy to be back with his friends and family and his dog Kasey. He releases the following statement:
"Thank you all from the bottom of my heart to all those who have shown me support in my legal battles with the courts. Thank you to all those who sent mail, and reading material while I was incarcerated (someone sent me the book 'Les Miserables' by Victor Hugo and I have no idea who sent this, but the book is a perfect jail book due to its themes and subject matter. Also the fact it is a massive book therefore providing lots of reading mitral. I enjoyed it a huge amount so whoever sent it, thank you). This G20 matter is far from over for me and though I now have to live under what I feel to be pointlessly imposed bail restrictions for a period of time in excess of 10 months, I look forward to the day I over turn these wrongful and excessive convictions. Jail is nothing to fear, though it is a fucked up placed with fucked up politics, at least the jail where I was, was nothing that bad; in the sense one will never go hungry there. A person can sit around all day stuffing ones face with chips and pop gotten off canteen while watching Much Music (which seems to be the only thing ever on the T.V). When I think about what other prisoners throughout history have had to deal with or have to currently deal with in other parts of the world it makes Canada's incarceration system seem gluttonous and easy (not to say it is still not hard time, one just has to wrap their mind around being there and 'do their own time' as the saying goes). I often feel that life is harder for those that live in the streets of say Montreal than those incarcerated within the C.N.C.C.  Nonetheless still, fuck jails. Thank you once again for all the support and continued support with my appeals battle which lies ahead. It all means a lot."
If you would like to send mail to Horton or financial support to his ongoing G20 legal battles, forward it all to the Anarchist Black Cross of Peterborough at:
George Horton
c/o The Anarchist Black Cross of Peterborough
PO Box 342
Peterborough, ON.
K9J 6Z3
abc.ptbo (at) resist (dot) ca
Solidarity to all Political Prisoners, someday we will break free of the chains the hold us down.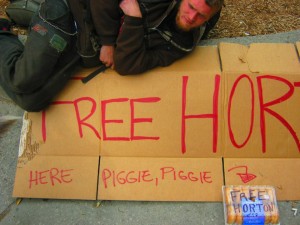 (One of Horton's friends and supporter at his September 28th 2012 sentencing hearing outside of Old City Hall court house in Toronto.)